Kelly Irvin
< Back to author list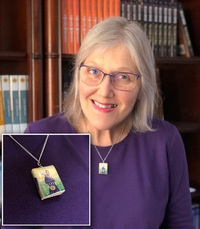 Best-selling author Kelly Irvin splits her writing time between Amish romances and romantic suspense. Her latest release is Trust Me (2/8/22), a romantic suspense novel set in San Antonio's historic art district. It explores broken trust and whether trust can ever be restored. Publishers Weekly called it a "whirlwind romantic thriller" and "an emotional rollercoaster."
Her latest Amish romance is Love's Dwelling, the first book in the Amish Blessings series, which released in July 2021. The series takes place in Yoder and Haven, Kansas, and looks at adoption among the Amish. The series follows her Amish romance series, Amish of Sky Country includes Mountains of Grace, followed by The Long Bridge Home, and Peace in the Valley. The series explores Amish communities in northwest Montana and how they are impacted by wildfires.
Other romantic suspense novels include Her Every Move, which Publishers Weekly called gripping suspense and said, "loving descriptions of San Antonio's attractions enhance the well-paced plot."
The publication called Closer Than She Knows a "brisk, smoothly written, thriller."
Kelly's Every Amish Season series includes Upon A Spring Breeze, Beneath the Summer Sun, Through the Autumn Air, and With Winter's First Frost from Zondervan/HarperCollins Christian Publishing. This follows the Amish of Bee County series, The Saddle Maker's Son, released in June 2016. It is an ECPA bestseller. It follows The Bishop's Son, and the critically acclaimed bestseller, The Beekeeper's Son, which earned a starred review from Publishers Weekly. The reviewer called it "a beautifully woven masterpiece." The Beekeeper's Son was a finalist in the romance category of the 2016 ACFW Carol Awards Contest.
Kelly is also the author of the Bliss Creek Amish series and the New Amish Amish series. The first series includes To Love and To Cherish, A Heart Made New, and Love's Journey Home, published by Harvest House. The New Hope Amish series includes Love Still Stands, followed by Love Redeemed, which was an ACFW Carol Award finalist, and A Plain Love Song.
Kelly has also penned two other romantic suspense novels, A Deadly Wilderness and No Child of Mine..
The Kansas native is a member of American Christian Fiction Writers and ACFW's San Antonio local chapter Alamo City Christian Fiction Writers.
A graduate of the University of Kansas William Allen White School of Journalism, Kelly has been writing nonfiction professionally for thirty years. She studied for three semesters at the University of Costa Rica, learning the Spanish language. As a journalist, she worked six years in the border towns of Laredo and El Paso.
She worked in public relations for the San Antonio Parks and Recreation Department for 22 years before retiring earlier this year. Kelly has been married to photographer Tim Irvin for twenty-eight years. They have two young adult children and have three grandchildren. In her spare time, she likes to write short stories, read books by her favorite authors, and looks forward to visits with her grandchildren.
Books By Kelly Irvin
Displaying all 2 products