Lynne M. Baab
< Back to author list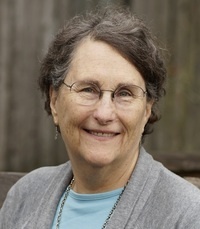 I was born in Washington, DC, and moved at 18 months to Athens, Greece. That would be the first of 12 moves in my first 15 years. My dad was in the military. Two of the few constants in my life were church attendance and reading.
As a kid I loved Nancy Drew, the Little House on the Prairie books, and the Moomin books by Tove Jansson. Probably my most favorite were the Betsy-Tacy books by Maud Hart Lovelace. Betsy was so sure she would be a writer when she grew up, and I thought I'd like to do that too.
My writing career began in earnest at midlife. I've read a lot of biographies of writers, and they seem either to start young (like Georgette Heyer who wrote her first book as a teenager) or at midlife. I did write a couple magazine articles in my twenties and a couple more in my thirties, but I started focusing on writing in my late thirties.
It took me a year to write my first short story ("A Garden of Living Water," the title story in my collection of short stories published for kindle). in my late thirties, I wrote a handful of short stories, mostly focused on themes of "what am I going to be after being a stay at home mom"). In my early forties, I wrote four novels. I have recently published two of them for kindle ("Dead Sea" and "Deadly Murmurs").
I was 45 when I got my first book contract (for "Personality Type in Congregations"). More books followed every year or two after that. Every one of them is precious to me. Equally precious are the three Bible study guides I wrote, for which my husband, Dave, did the background research into each biblical passage. It was fun to work with him. My Bible study guides are "Sabbath," "Prayers of the New Testament," and "Prayers of the Old Testament."
My strongest selling books are "Sabbath Keeping" (which has been chosen to be a "book of the day" at the Urbana Conference December 2018), "Fasting," and "Personality Type in Congregation." My latest book focuses on Christian care, "Nurturing Hope." It's the first book I've ever been asked to write, and it's the "anchor volume" for a series of books on pastoral care.
Dave and I live in Seattle, and our two sons live here, too. One of them is married and the father of our beloved granddaughter. Our other son is a journalist with the Huffington Post, writing long and interesting articles using the pen name Michael Hobbes. It's easy to find his articles online because they are read by millions of readers. It is a thrill to have a writer son with such a big audience.
The topics of my books continue to be very real in my own life. I keep a weekly Sabbath, and I engage in a variety of Christian spiritual practices. I try to care for the people God puts in my path.
Thanks for reading my books. I am deeply aware of the privilege of being a writer, and writers depend on readers. Please visit my website where I blog every week: lynnebaab.com.