Sydney Taylor
< Back to author list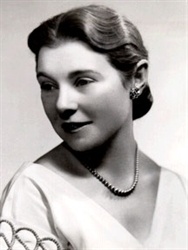 Taylor was born on October 31, 1904 on New York City's Lower East Side. Her Jewish immigrant family lived in poverty conditions, but they felt great respect and appreciation for the country that gave them hope and opportunities for the future. This childhood led Taylor eventually into writing.
Taylor started working as a secretary after she graduated from high school, married her husband, and spent her nights with the Lenox Hill Players, a theater group. As an actress, she also learned modern dance, which she thoroughly enjoyed. After dancing with the Martha Graham Dance Company, Taylor took time off to have her one and only child, a daughter. As her daughter grew up Taylor would tell her stories about her own childhood. Because of her daughter's inquiries, Taylor wrote down her memories and then tucked them away in a drawer.
While Taylor was working at a nonprofit summer camp directing and choreographing dance and dramatics, her husband saw an announcement about a writing contest. Unbeknownst to his wife, he sent in her manuscript about her childhood. A short time later Taylor received word that an editor from Wilcox and Follett wanted to publish her work. Surprised and somewhat nervous, Taylor edited and revised her story, and All-of-a-Kind Family became a popular book. She had also won first prize in the contest. Taylor's success encouraged her to pen four more books in the series and write more short stories for books and magazines.
This author, actress, dancer, and choreographer then passed away from cancer on February 12, 1978. In her honor, the Sydney Taylor Book Award is given each year by the Jewish Association of Libraries to a book for young people that authentically portrays the Jewish experience.
In 2014, the All-of-a-Kind Family series is being re-released for another generation of readers to understand and appreciate Jewish immigrant life at the beginning of the twentieth century.
Books By Sydney Taylor
Displaying all 2 products