Trina Robbins
< Back to author list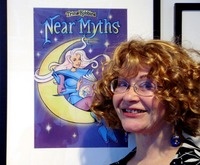 Trina Robbins is an American comics artist and writer. She was an early and influential participant in the underground comix movement, and one of the few female artists in underground comix when she started. Her first comics were printed in the East Village Other. She later joined the staff of a feminist underground newspaper It Ain't Me, Babe, with whom she produced the first all-woman comic book titled It Ain't Me Babe. She became increasingly involved in creating outlets for and promoting female comics artists, through projects such as the comics anthology Wimmen's Comix. She was also the penciller on Wonder Woman for a time in the '80s.
Trina has worked on an adaptation of Sax Rohmer's Dope for Eclipse Comics and GoGirl with artist Anne Timmons for Image Comics.
Trina designed Vampirella's costume for Forrest Ackerman and Jim Warren.
In addition to her comics work, Robbins is an author of non-fiction books, including several with an emphasis on the history of women in cartooning.
She is the first of the three "Ladies of the Canyon" in Joni Mitchell's classic song from the album of the same name.
Trina Robbins won a Special Achievement Award from the San Diego Comic Con in 1989 for her work on Strip AIDS U.S.A., a benefit book that she co-edited with Bill Sienkiewicz and Robert Triptow.
No results
We couldn't find a match for these filters.
Please try another choose.