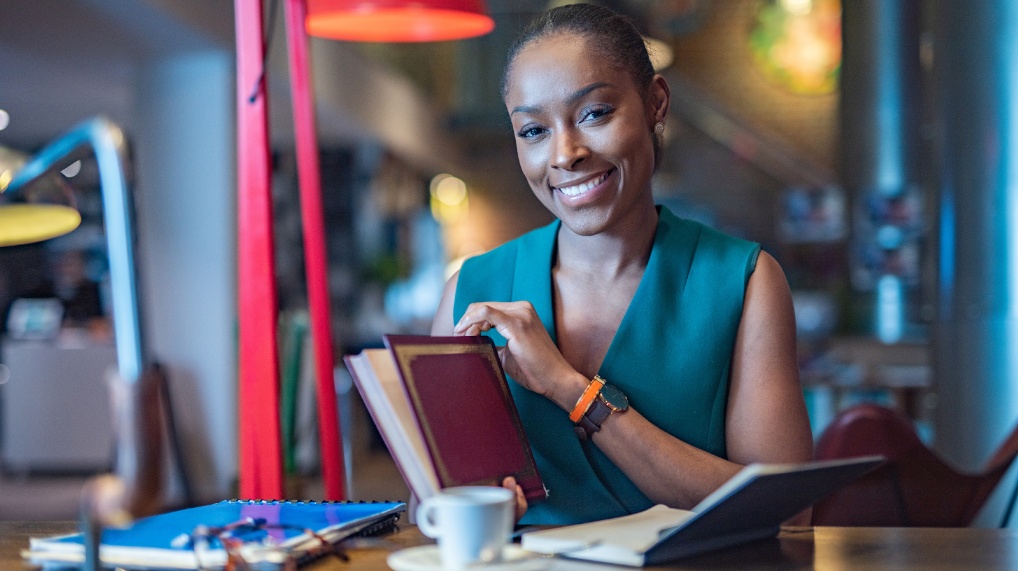 How to Find Time for Reading When You're Too Busy for Books
Posted on 21 Jun 2022 | Posted in StevensBooks Blogs
One of the most common excuses people give for not reading more books is that they don't have enough time.
Finding time to read can be a challenge when you're always busy. It seems like there's never enough time in the day to get everything done. How much more if you try to insert some reading with all the chores and work you have to take care of?
The truth is… it's not impossible.
Reading doesn't have to take up a lot of time. If you really want to read more, you can find ways to make space for it. In fact, with a few simple tricks, you can read books despite your hectic schedule.
Want to learn how? Here are some tips on how to make reading a priority, even when you're busy:

Make a plan and set goals.
This is the first thing you should do and the most important one so you can read without neglecting your other duties. If you don't have a plan, it's easy to let other things take precedence over reading. Start by monitoring your daily tasks. Find out which times you are free and then squeeze reading into these gaps. Decide how many books you want to read for a week, a month, or even a year, and create a schedule with your free time that allows for that. You can even set a goal to read a certain number of pages to track your progress. However, don't be too ambitious and only set realistic goals so you won't overlook your other responsibilities and you won't be disappointed when you fail to reach your quota. You can start with one chapter a day and add more eventually once you have estimated your pace. Whatever your goals are, always stick to your plan and schedule.
Set aside time each day for reading.
Pencil in time for reading every day in your calendar, just like you would for any other appointment. Dedicate this time specifically for reading and nothing else. Reserve at least 30 minutes or an hour each day. This may seem like a lot, but if you break it down into smaller chunks of time throughout the day, it's doable. Even if it's just increments of 10 or 15 minutes, setting aside regular time for reading will help you make progress on your reading goals. This will get you into the habit of reading and make it a part of your routine. Once reading is integrated into your routine, it'll be easier to follow it without fail.
Carve out specific blocks of time each week to read.
If you can't commit to reading every day, then just set certain days when you do have space in your schedule to read. If you have an hour free on Tuesday night and another hour on Wednesday morning, devote them to reading. You must also carve out longer amounts of time on the weekends since there is less work to do during these days. When you can set aside an hour or two on Saturday or Sunday, that can be a great way to get some good reading time. This will help you catch up on any books you've been reading or wanting to read.
Pick a book after you before you sleep.
Many people find that they have more time at night or in the morning to read, so if you're one of these early birds and night owls, try allocating an hour during your peak time for reading. Place the book you're eager to read on your nightstand. If you're a morning person, you can just stretch out and read it during the early hours of day. If you prefer reading at night, you can pick it up and read yourself to sleep. Either way, you can wind down and relax with a good book during these peaceful times. You'll get some extra reading in without the usual distractions and obligations.
Bring books with you wherever you go.
If you have a book with you, you're more likely to read it. The proximity would remind you of your reading goals and encourage you to read. Whether you're waiting in line at the grocery store or spending your lunch break in the cafeteria, bring a book with you and make use of that spare time. You may think this is a hassle if you like reading big books that usually have 500 to 1000 pages. However, this isn't a problem since you can now download eBooks on your phone or tablet, so you won't have to carry around thick tomes everywhere. The convenience and portability of eBooks would make it possible to bring hundreds of books on your device without the heavy weight. With the books you have, try to read whenever you can even if it's only for five or ten minutes. Every little bit helps you reach your reading goals. You'll realize that you can actually squeeze in a lot of reading time when you're not stuck at home.
Trade screen time for reading time.
If you find yourself mindlessly scrolling through your social media feed or watching TV shows, try swapping some of that time for books instead. If you want to make space for reading, you would have to cut back on other less important activities. These include frivolous and unproductive habits and practices that you waste your precious time on. When you notice yourself always surfing on the internet and binging Netflix series, you would have to realign your priorities and accommodate reading. You'll be amazed how much extra space there is on your schedule when you learn the amount of time you spend staring at a screen. Rather than consuming inconsequential mainstream content, it's better to read because you can learn more things and exercise your mind.
Choose shorter books.
You may be balancing your schedule and doing everything you can to flip through books whenever possible, but you still don't have enough time to read. When you're working a nine-to-five job or you're a full-time student, it's difficult to commit to reading a 500-page novel. If you have this struggle, you must be selective about the books you choose. Consider picking shorter books or books with shorter chapters. Not only will you finish the book more quickly, but it will also take up less of your time. There are plenty of short books that are overflowing with information and full of entertainment like self-help books and novellas, so you don't have a shortage of options.
Listen to audiobooks.
If your hands are always full, then you must discover the wonder of audiobooks. You can simply put your earphones in and listen to a narrator tell the story while you're working out, driving, or doing chores. You don't have to focus on words printed across a page since someone is already reading the book for you. This is the best solution when you can't physically read a book because you have a lot of things to do or when you're doing routine tasks that don't require much brain power like washing the dishes or sweeping the floor. With audiobooks, you can stay productive while keeping up with your reading.
Join a book club or discussion group.
When you become part of a book club, you won't only have like-minded people you can discuss books with, but you'll also have instant accountability partners who would make sure you finish reading a book on time. This can motivate you to read more because you have set a common goal with others. You'd be excited to share your thoughts on a particular chapter and you'd fear losing out with the rest of your club's reading progress. Once you're a part of a reading group, you would always do your best to catch up with everyone else and meet reading deadlines.
There's never enough time to do everything we want in life. For many of us, reading is one of the things we'd like to do more of but just can't seem to find the time for.
We hope our tips will encourage you to read despite the daily demands of life. For this, you may want to add more books to your to-be-read pile. Browse through our store and pick which titles you would like to include in your reading routine. You can always start your reading journey with us.